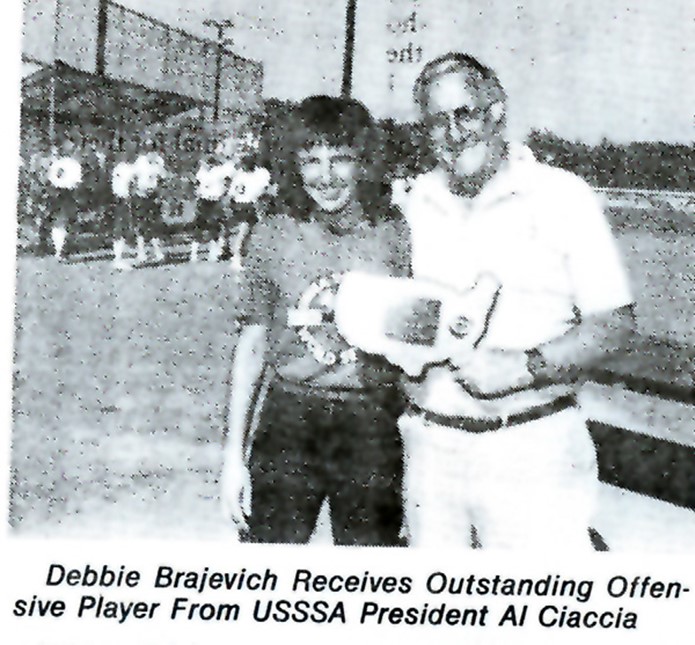 Bio
It began in 1973 when Mickey Norton the legendary founder of the Huntington AC Mice spotted a young 13 year old player on a local team and asked her to go to Ohio to play with them. 27 years, thousands of games and too many miles to count later Debbie finished a career with the Huntington AC/County Sports/Uniform Pros MICE that can best be summed up by the numbers:
25 National Championships played in
.527 career batting average
3x First team All American
2x National Champion
2 Hall of Fame inductions
1 World Series runner up
1 World Series Outstanding Offensive Player Award-World Series (.727 ba)
1 Metro-Long Island Player of the Year
Debbieâ??s ability to hit to all fields and field any position made her an invaluable member of the MICE this years team of distinction inductee. She was at her most dangerous with men on base and her talented teammates made sure that was the case most of the time.
A second baseman most of her career, Debbieâ??s range, smooth glovework and double play capability ended many a rally of an opposing team. The combination of hitting prowess and fielding excellence made her one of the best players in the game for most of her career and if asked to step up to the plate today she would still find a way to get on base or advance any runners. To quote her hall of fame coach Bob DeAngelis, â??Debbie could wake up and go right onto the field and hitâ??
An interesting side note: when the movie â??A League of Their Ownâ?? was in production Debbie was brought in by the casting directors to read for several parts. She made it past the baseball portion of the process â?? impressing the cast and crew â?? but was done in by the acting requirement. Admittedly not an actress the two roles Debbie was auditioning for were filled by Madonna and Rosie Oâ??Donnell.